Canine Surgery Services Back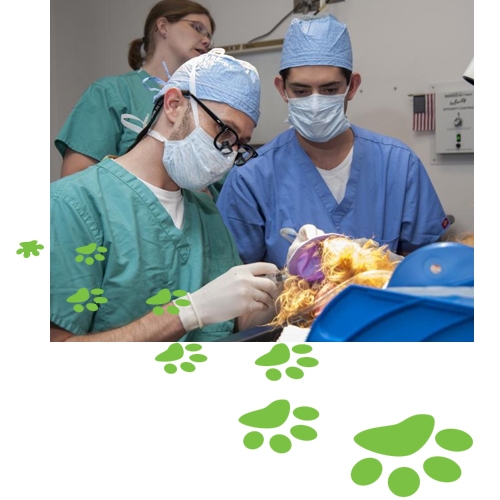 At Bickford Vet, we treat your pet as a member of our own family. We have state of the art equipment for surgeries and care of your pet. We perform a variety of elective and non-elective surgeries at our facility. Our Veterinarians can perform soft tissue and orthopedic surgery. We can do all of the following as required:
Growth removal or tumour biopsy
Eye enucleation
Laceration repair
Urinary bladder surgery and stone removal
Abdominal exploratory
Oral surgery
Caesarean surgery
Orthopedic surgery
Emergency surgery
Spay/neuter
Pre-surgery
We ensure that your pet is healthy enough to undergo any kind of surgery. We do detailed blood tests following which we determine the health of your pet. Your pet receives anesthesia only after thorough check ups and screening for any pre-existing conditions that might affect the performance and outcome of the surgery.
During Surgery
We monitor your pet throughout the surgery as their comfort and safety is of the utmost importance. Our veterinary technicians consistently monitor oxygen levels, blood pressure and heart rate. We ensure that your pet is comfortable throughout the surgery. We will keep you informed of the progress of the surgery so you have peace of mind that your fur baby is fine.
Post-Surgery
At Bickford Vet we continue our care of your pet post-surgery as well. The blood tests that we initially perform also help us in devising a plan for pain management after the surgery. This not only keeps your pet comfortable but also aids in a speedy recovery. We will give you full instructions when your pet is being discharged on how to care for your pet at home. And of course, we are always there to answer all your questions and address your concerns until your pet is fully recovered. With Bickford Vet, your pet is in good hands.