Cat Neutering and Spaying Back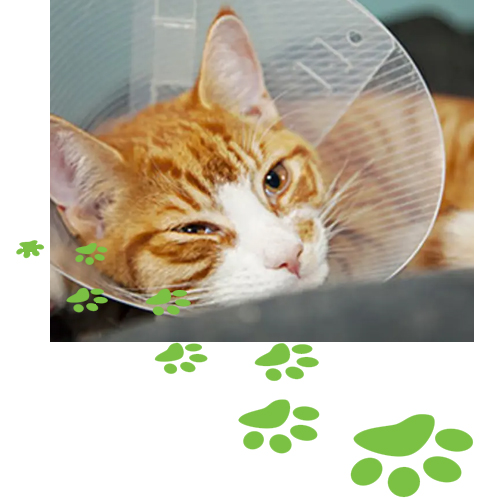 Pets can be spayed or neutered once they have reached approximately six months of age. These procedures require pet anesthesia and monitoring after the surgery. Each patient receives supportive care such as intravenous fluid therapy, warm blankets and medications for pain control while in the hospital by our animal loving veterinarians and registered veterinarian technicians. After the surgery, we ensure that you receive complete care instructions and post-operative pain medications by one of our registered veterinary technicians. We will happily answer all your queries before and after the surgery.
For female pets, a procedure which involves the removal of ovaries and the uterus, called the ovariohysterectomy is performed.
Benefits of Spaying your pet
Your pet will live a longer and healthier life as she will not get pregnant and reproduce
Protection against deadly diseases like several types of cancer, bacterial infections and reproductive tract diseases
No worry about going into estrus (also known as "heat") and the inconvenience attached to the cycle
Prevent ovarian cysts and breast tumours as they age
For male pets, the procedure involves removing the testicles.
Benefits of Neutering your pet
Your pet will live a longer and healthier life
Reduce or eliminate high risk for prostrate and testicular cancer
Reduce or eliminate risk for sexually transmitted diseases
Decreased chance of developing perineal hernias
Eliminate undesirable, embarrassing behaviours like roaming, fighting, humping and spraying
Timing for Spaying/Neutering a cat
Once your cat reaches the age of four to six months and is fully vaccinated, they can be spayed or neutered safely. Our veterinarians can answer all your questions and help you understand what the procedure involves and the several benefits for your pet as well as your household.
After the surgery
We discharge our patients on the same day after the surgery for a comfortable recovery at home. You will receive detailed instructions about how to care for them, all the do's and don'ts as well information and medication for pain management. We will answer all your questions and will also follow up on the phone for an update on how your pet is recovering.